We Are Ready to Take This Journey With You
Eliminate the middleman and outsourcing mishaps with Mex-Cal Truckline. Founded in 1973, we're a family-owned
and operated trucking and logistics company on a mission to help you deliver goods on time, every time.

Just On Time
Our company guarantees secure transport, timely delivery and door-to-door service across both sides of the border.

Door-to-Door Service
Avoid delayed deliveries and cross-border hassles. We cover every aspect of the transportation process for a streamlined and efficient supply chain.

Added Value
Our highly advanced services include real-time tracking, secure technology, K9 sniffer dogs, dash cams, trailers with GPS tracking, state-of-the-art yards in the US and Mexico, as well as professionally-trained personnel.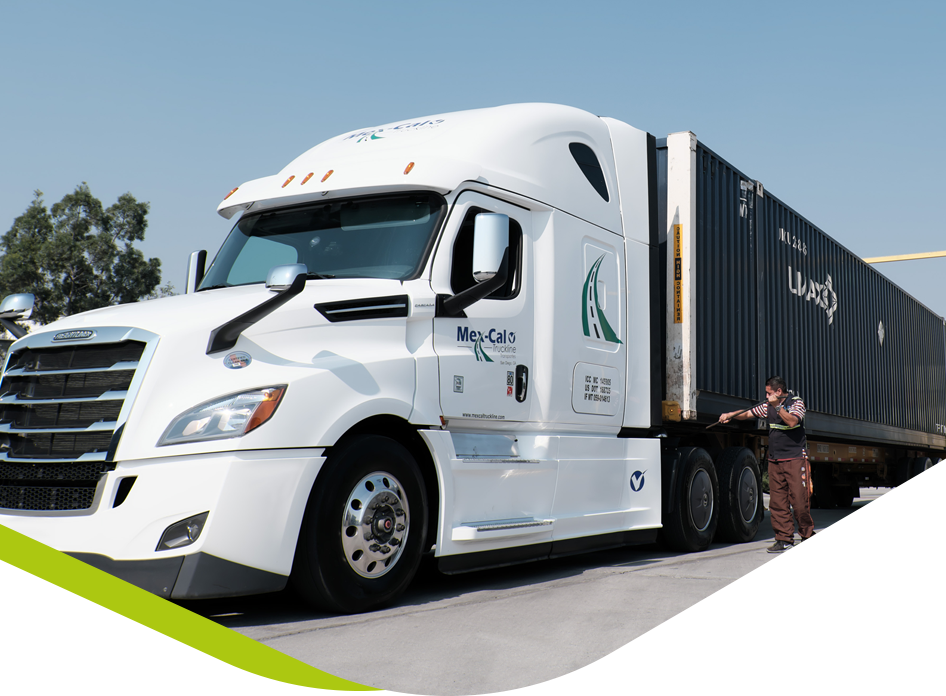 Mission Statement
Our mission is to provide a seamless and reliable all-in-one solution for transportation and logistics needs between the US and Mexico. With our decades of experience and family legacy, we strive to deliver goods on time, every time, while ensuring the highest level of security and efficiency.
Company Values
At Mex-Cal Truckline, we believe that logistics should be simple and stress-free. Our mission is to provide the comprehensive transportation and logistics solutions that you can rely on. We strive to help you save time, money, and unnecessary worry.

Efficiency
Our world-class service and all-in-one solutions reliably and promptly deliver goods on time, every time.

Excellence
Our family legacy has earned us a reputation for advanced logistic support, extensive fleet, and self-sufficient yard.

Security
Effective security is non-negotiable for cross-border transportation. We prioritize safety by implementing top-tier security measures.

Integration
Our all-in-one solutions integrate all the logistics and transportation services you need, from in-house mechanics to customized storage.
Our Family Legacy
Since our father started Mex-Cal Trucking in 1973, we've grown from a few trucks to a full-scale operation with over 200 vehicles, state-of-the-art yards, and so much more.
Over the years, every generation in our family has gotten involved in the family business. Now, the Guillen family name is known in the industry for efficiency and reliability.
Mex-Cal Truckline was Founded in 1978

Transportes Mexcal de Baja California, S. de R.L. de C.V., which was incorporated in 1997

Built State-of-the-art yard

Acquired a Certified K9 Inspection Unit

Expanded Fleet to 200+ Vehicles

Expanded Operations to Mexico

Opened Tijuana Location

Built State-of-the-art Yard in Tijuana
Timeline
Swipe horizontally to see more.

Mex-Cal Truckline was Founded in 1978

Transportes Mexcal de Baja California, S. de R.L. de C.V., which was incorporated in 1997

Built State-of-the-art yard

Acquired a Certified K9 Inspection Unit

Expanded Fleet to 200+ Vehicles

Expanded Operations to Mexico

Opened Tijuana Location

Built State-of-the-art Yard in Tijuana